(1) Objectives:
To enable the team members to learn how to establish good character and values, and to become a bridge between teachers and students, assisting in the implementation of character and civic education.
To cultivate leadership qualities among the team members.
(2) Structure: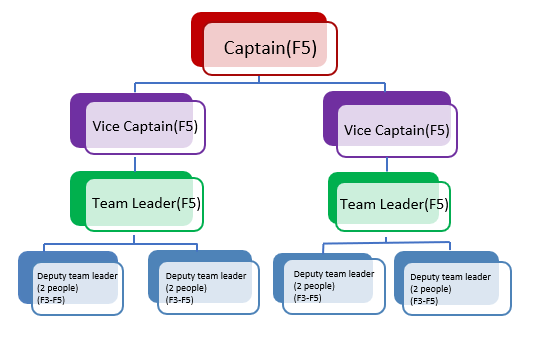 Chief Commander (1 person): Responsible for leading the entire team.
Deputy Commanders (2 people): Assist the Chief Commander in leading the entire team and also assist in leading their respective groups.
Group Leaders (2 people): Each group has one group leader who is responsible for leading their group.
Deputy Group Leaders (8 people): Each group has two deputy group leaders who assist the group leader in leading their group.
Team Members: Approximately 10 members in each group.
Total number of team members: Approximately 55 people.
(3) Main Responsibilities:
Assist in organizing moral and civic education activities
The moral and civic education team's major activities include Character Education Day, Love and Care Day, and Spring Cleaning. The pioneers assist teachers in planning these activities.
Lunchtime gatherings
The team is divided into four groups - Monday, Tuesday, Thursday, and Friday groups. Every week, one day during lunchtime, they gather at the Spiritual Development Room, where a teacher or a group leader leads them to establish teamwork, learn good values, and understand current affairs around them.
Regular meetings
There are about six moral education pioneer meetings throughout the year, during which teachers or team leaders announce important matters and share information within their groups.
Training
In addition to regular gatherings, there will be a pioneer training camp and a pioneer training day each year to help build up the team.
Assist in school-wide events
The moral education pioneers, student leaders, and little angels teams take turns to assist teachers in maintaining order during school-wide events, such as Form One Registration Day and Secondary School Admissions Talk.