Members
Coordinator: Cheng Larry
Members: Lee Chun Ho, Chun Wan Yu, Luk Kit Man, Lo Ka Yee, Lee Sau Yan, Lam Ting Yin, Own Yu Tuen, Tsai Yee Ah, Yuen Hill Yan
Vision
Students can establish themselves, unleash their potential and achieve diversified development from participating co-curricular activities.
Goals
Students can enhance their knowledge and skills, affirm their own value, and cultivate positive thinking habits. Encourage students to care about society, understand the community, enhance their civic consciousness and broaden their horizons. Enable students to cultivate diversified interests and establish a lifelong learning attitude. Encourage students to make good use of their leisure time, cultivate good and healthy living habits, develop their character strengths and exploit potentials and talents. Foster good communication and emotional connections between teachers and students. Strengthen students'sense of belonging to the school. Create an excellent campus environment and enable students to achieve balanced development in morality, intelligence, physique, social skills, aesthetics and spirituality.
Objectives of co-curricular activities at different levels: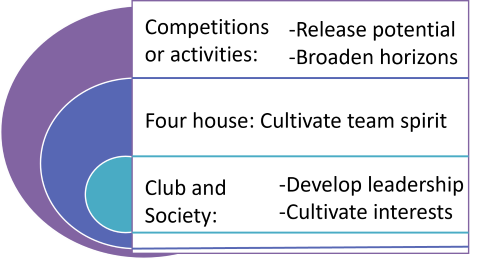 Characteristics
Coordination between co-curriculum activities and academic studies: The school emphasizes the triangular relationship between morality, academic performance, and co-curriculum activities, and actively encourages students to pursue diversified development. With the support of school policies, students are required to participate in co-curriculum activities, which is conducive to the cultivation of personal interests and strengths.
Diversified activities: Over 40 associations have been established this year, including academic, art, music, service, uniformed teams, sport, and cultural and entertainment categories. Students participate according to their personality and ability. By participating activities, students' interests and strengths can be cultivated, self-awareness can be developed, and goals and aspirations can be established.
Characteristic co-curriculum activities: The school is committed to developing distinctive physical education and music activities, such as golf, fencing, kayaking, skipping, visual arts, drama, music and recitation. Students have achieved excellent performance and won numerous awards.
Co-curriculum ambassadors: Promoting participation in co-curriculum activities: Serving as the host of award ceremonies during morning assemblies, hosting the assembly of co-curriculum activity parade, leading lunchtime activities and dedicating themselves to leadership training.